Licensed Landscape Architect and Consultants
Florida License No. 0001760



STAFF and ASSOCIATES

Randall Baker
Orlando, Florida, USA
Licensed Landscape Architect
(Florida Registered #0001760)
CAD / Designer
President
Owner

David Farley
Las Vegas, Nevada USA
Licensed Landscape Architect
(Florida, Virginia, Nevada, Arizona Registered)
Designer
Construction Details

Francisco Oliva-Esteve
Caracas, Venezuela
Licensed Landscape Architect
(Venezuela Registered)
Botanist
Ecologist
Author

Adam Williams
Jacksonville, Florida USA
Certified Planner
GIS Technician
CAD Substar
Boy Friday

Ilsa Rojas
Miami, Florida USA
Licensed Architect
(Venezuela Registered)
Designer
Architectual Consultant
CAD and Graphics Technician
Translator

Anne Burkhart
Orlando, Florida USA
Office Manager
Purchasing
Googler
Spellcheker
Vibe Support

William Slamin
Clermont, Florida USA
Horticultural Consultant
Architectural Historian
Senior Designer
Plant Worship
Webmaster
Provocateur

Joseph Annick
Minneola, Florida USA
Plant Hybridizer
Menial Labour
Head Chef
Office Grouch

Bradney Clayton
Sarasota, Florida USA
Architectural Designer
Site Survey Guru
Sketchup Artist
Construction Document Specialist
Other Duties
To be determined...

Christine Crespo
Orlando, Florida USA
Agronomist
Graduate Landscape Architect
Interpreter
Graphic Artist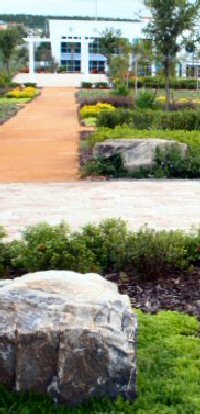 Phlox and Califorina Poppies | Kenne Wildlife Garden | Leesburg, Florida


Welcome to Land Art Landscape Architecture, a small design group established by Randall Baker in 2002 focused on providing a higher level of creative design to clients seeking our services. We are licensed Landscape Architects, artists, horticulturalists and graphic artists.

As a potential client considers what direction to take with their anticipated project the task may seem daunting. Clients must consider the credentials of those that they will task with their project, examine the company's portfolio of work and the company's business reputation.

As licensed landscape architects, we are educated at accredited universities, licensed through national and state level examinations, and meet experience criteria required by the licensing process. The state that issues a professional license for a landscape architect typically requires continuing education and has an oversight process. As landscape architects, we design and detail your hardscape items as well as landscape, irrigation, drainage solutions, and landscape lighting, preparing plans that are signed and sealed and can be permitted.

Contrarily, a "landscape designer" typically has no formal education, no licensing, and no governing oversight, simply declaring themselves as a landscape designer. The typical landscape designer works for a landscape company that is offering reduced priced design with the promise of the installation project. This may seem like a deal to many, yet it most often leads to overpriced junk plants being placed in inappropriate locations. Additionally, landscape designers cannot sign and seal plans for permit, and may mislead a client into thinking that no permit is required for items when it actually is.

As landscape architects, we offer value to our clients by presenting them with plans that are designed to their budget and can be competitively bid to prospective contractors, allowing them to remain in control of their project. Always consult your local BBB and alternatively Angieslist regarding reputability of your design professional.

It is our sincere hope that by choosing Land Art Landscape Architecture, you will find value through our innovative, long-term solutions. As partners in your project, we will present the best landscape design possible. Thank you for considering Land Art Landscape Architecture for your current and future project needs.

- Randall Baker | President





THE PROCESS

To discuss your project contact us by email at :

PROJECTS@LANDARTLA.COM

or call us at

407.484.6099

to schedule a meeting at your convenience, or for free advice. We point all callers in the right direction.

During our meeting we exchange ideas, learn from each other and assess your site. Let us know your landscape dreams, we'll fuel your imagination. Please have a copy of your survey or site plan available. It is also important to let us know your financial limitations, so we can design appropiate to your budget. Let us know any history of your landscape and current site problems. Any information helps us help you. There is no pressure to decide upon our services.

We will draw up a contract with parameters that you choose. For example, contractor bidding and permitting or 3D images are always optional. Price is calculated by the scope and size of your project and estimated design and CAD hours.

If you decide upon our services, our creative and knowledgeable staff tackles your dreams and tastes, compromised only by local codes, logistics and budget. Once we are satisfied with the quality of our concept, we will present you with a design plan. Of course changes are always part of the process.

Once changes have been completed, you will receive a package of legal plans, signed and sealed by a licensed Landscape Architect, valid for permitting, construction and landscaping for your new landscape. This may include detailed...



Conceptual Design

Demolition Plan

Utilities Plan

Hardscape Construction Plan

Planting | Relocation Plan

Irrigation Plan

Lighting Plan

Pool Construction Plans

Estimates of all the above

3D Concept Visualizations

Plant Material Listings





...and of course we guide you through the proccess and are always available to answer any questions; before, during and long after your project. Because we care. We sincerely want to make your dreams come true.

Quotes from our staff

The benefits of an intelligently designed landscape are overlooked by many commercial venues. The basic concept is uncomplicated; to attract customers, customers must feel welcome. Most budgets are misspent on expensive finishes for sterile lobby interiors, but do not mask the purpose of being mere waiting rooms or portals. Historically, successful businesses aknowledge the value of a warm, welcoming entrance and landscape, and so allot a reasonable budget to achieve this desired effect.
Academics aside, a major role of Landscape Architecture is about touching the hearts and souls of people, including one's own. Knowing a family can step outside and harvest fresh fruits and flowers from plants they never knew existed or designing a pool that keeps children from sitting indoors all day, or even planning an office park landscape with masses of plants whose fruits coincide with the arrival of migrating birds is extremely rewarding. Not to trivialize my field, but perhaps Landscape Architecture is simply about making the world a better place to live in.